Take Your Career On the Road.
Locum Tenens Jobs Nationwide.
Recruiting Resources is opportunity central for qualified professional CRNAs,  and anesthesiologists looking for permanent and locum tenens jobs. We have over 20 years of experience helping our providers and facilities come together to provide exceptional care nationwide. Our recruiters take pride in understanding the preferences and skillsets of our providers to match them to the perfect locum tenens job or full-time position.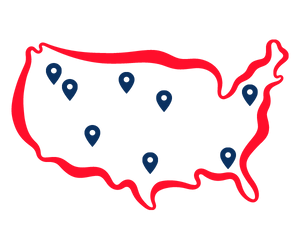 Discover Jobs by Profession
CRNA JObs
Access our team of anesthesia recruiting experts to find the CRNA job that's right for you!
Anesthesiologist Jobs
Connect with our team of recruiters to find Locum and Permanent Anesthesiologist jobs across the country.
Nursing and Allied
Browse thousands of travel medical jobs through our partner Uniti Med.
Learn More >
Recruiting Resources strives to help your healthcare facility improve patient outcomes by providing outstanding locum tenen staffing to facilities nationwide. Our healthcare facility partners take comfort in knowing our focus is on delivering the highest standards in the industry. We stake our reputation on the integrity of our staff and our ability to direct quality CRNAs and Anesthesiologists to your department.
• 20+ years in the healthcare recruiting industry
• Health insurance available for Locum providers
• Experts in credentialing and licensing across all 50 states

• Exclusive job listings with top-tier healthcare facilities
• Unique opportunities for new grads coming out of school
JOY TO WORK WITH!
The team at Recruiting Resources has been a joy to work with throughout the process. I feel confident in their abilities to assist and support my assignments and more than anything I feel a great deal of trust in our working relationship. They align all the pieces of the puzzle to allow me to do what I enjoy doing, seeing new regions/facilities and helping patients through anesthesia.
– Kevin, CRNA
Amazing team!
Recruiting Resources has made the entire transition to locums so seamless! They guide you through the entire process & help you line up your assignments, travel, lodging, & licensing. The entire team is supportive & wonderful to work with!
– Heidi, CRNA
Amazing job!
I would like to take a moment to thank all of you for an amazing job in obtaining the contract and credentialing for my assignment. This was an exceptionally challenging set of circumstances. Not only did everyone complete the task but we managed to start on time with countless hurdles and obstacles thrown at us. I really cannot thank you enough for your stellar performance.
– Tom, CRNA